Τhe National Seminar event for the presentation of the European program "ST-ART APP" was successfully held on December 18, 2014, by the Maniatakeion Foundation at the conference hall of the Chamber of Messenia of Commerce and Industry with Vicky Inglezou, Director of the Foundation as keynote speaker.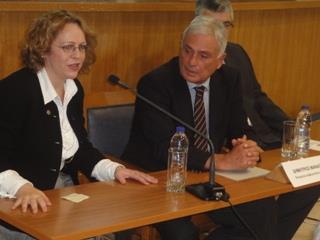 The event began with an address by Dimitrios Maniatis, President of the Messinian Chamber. He noted among other things that "ST-ART APP" is a vehicle for developing skills, reinforcing self-employment and associating with the labor market in the fields of business creation, Cultural Assets and Heritage.
Stefanos Giakoumatos, Vice President of A' Technological Educational Institute of Peloponnese, next took the floor and stressed that the support of entrepreneurship, the entrepreneurial activities of students and the integration of innovation in business are objectives of A'T.E.I. of Peloponnese and its Entrepreneurial and Innovation Unit operating within it.
Vicky Inglezou briefly outlined the framework of the program "ST-ART APP", as being part of the multilateral Leonardo Da Vinci projects "Innovation Transfer." She stated that the program aimed at creating interactive learning space for the development of entrepreneurial skills in the field of Creative Enterprises, Cultural Asset and Heritage. She presented the educational platform (project.start-app.eu) and the Application (Start-App), created by the Consortium, for cell phones and tablets, operating systems for iOS and Android, hence allowing young people and adults to improve their skills in order to start their business. Finally, she referred to the experimentation phase of the Platform and the Application in order to verify the effectiveness and quality of such tools.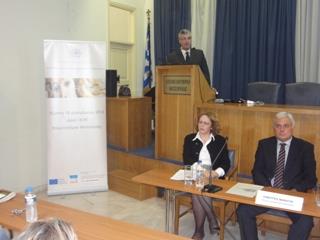 Yannis Papanikolaou, collaborator of the Maniatakeion Foundation, in his speech titled "Running with gazelles and eating with lions" analyzed the concepts of business and competitive advantage as well as the necessity of computer knowledge and the importance of lifelong learning. He finally revealed the comparative advantages of "ST-ART APP" program and drew the conclusions of the event.
The event was attended by Eleni Aliferi, Deputy Head of Messinia, Pericles Mantas, Deputy Head of Entrepreneurship, Competitiveness and Innovation, Pelagia Leftaki, Deputy Mayor of Pylos-Nestoras, Roula Nikolopoulou, Director of Employment Agency KPA2 Kalamata, Pavlos Kraniotis, President of the Association of Development and Progress of Peloponnese, Ektor Tsatsoulis Executive Director at "Kalamata 21" ("European Capital of Culture" Candidacy Office), representatives of Messinian municipalities, representatives of V.E.T., professors of A'T.E.I. of Peloponnese, members of the Messinian Chamber of Commerce and Industry, representatives of cultural bodies, students and others.