On Monday February 22 and Tuesday February 23 the team consisting of 10 members from different sectors who have participated in activities of KALAMATA: 21 were hosted at the Maniatakeion Foundation in order to carry out the last rehearsals before the dossier nomination of Kalamata for the European Capital of Culture in 2021. The event will take place on Wednesday, February 24 in a central hotel in Athens in front of the Evaluation Committee.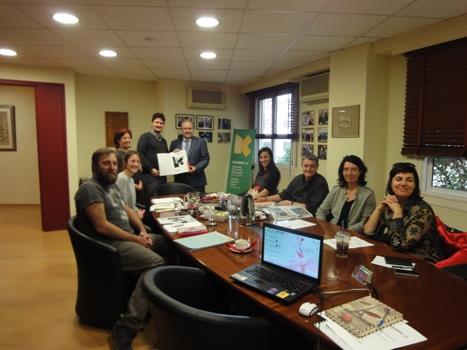 Hector Tsatsoulis, Executive Director of KALAMATA: 21, handed to Dimitris Maniatakis, Chairman of the Maniatakeion Foundation, the Kalamata application file for the ECC and also the reasons why Kalamata chose to participate in the tender for the institution of Cultural Capital of Europe.
The 10 member team includes:
1. Panagiotis Nikas, Mayor of Kalamata
2. Hector Tsatsoulis, Executive Director KALAMATA:21
3. Elena Penga, Artistic Director KALAMATA:21
4. Maria Kallikouni, Architect and in charge of cooperation and planning KALAMATA:21
5. Marina Papatsoni, Marketing and Development Director, TEMES A.E., sponsor
6. Helen Volonaki, Professor at the University of Peloponnese (Kalamata), coordinator of the KALAMATA:21 Working Group
7. Elias Skenderidis, Consultant Digital Strategy, Coordinator DigiKa
8. Filaretos Vourkos, Youth Trainer, Partner ACADEMY:21
9.Katerina Vigou, teacher, volunteer of KALAMATA:21, member of the training team:21
10. Athanasia/ Nancy Kanellopoulou, Cultural Administrator - MSc Environment and Development (NTUA), volunteer-participant in the working group.
Georgia Giannakou, Alternate member, Communication and International Relations KALAMATA:21.
The central idea of the candidature of Kalamata is reflected in the slogan "Kalamata Rising". It is a city that emerges, rises, mobilizes…