An Informative Workshop on emerging markets in Sub-Saharan Africa was organized by SEV, Committee for International Affairs in cooperation with the Hellenic-African Chamber of Commerce and Development on Tuesday, Feb. 17, 2015 at the offices of SEV.
The workshop is part of the framework of actions of the Federation International Actions and the Hellenic-African Chamber in order to support extroversion in Greek enterprises.
Representatives of embassies and business executives with activities in African countries mentioned their valuable experience on the economy and development prospects of these countries, the business environment, the input market opportunities for six countries, South Africa, Nigeria, Zambia, Botswana, Kenya and Ethiopia. Ambassadors, Consuls and senior officials of the Foreign Ministry as well as 150 Greek companies attended the event, each of them demonstrating the strong interest that the African continent creates.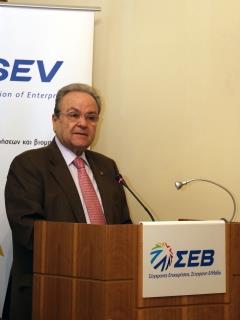 Mr. Dimitris Maniatakis, Secretary General of the Hellenic-African Chamber pointed out that the objective of the Chamber is to promote and strengthen bilateral economic and cultural relations in all fields between African countries and Greece. He noted that the Chamber's website provides a basic tool for service provisions. Namely, the electronic application "Africa at a Glance" provides detailed information on the economic environment of each country in Africa, the commercial activities of each country, imports and exports plus additional information to facilitate entrepreneurs. Finally, he stressed that the economies of Africa have shown a remarkable growth. He furthermote noted that the Banking Group abroad predict that in the coming twenty years the economy of Africa will grow at an average annual rate of 7%, rendering it a new destination target for international investors. The global economic crisis has highlighted the resilience of the African continent, largely due to the proper economic policy followed in previous years, low inflation, positive financial results, increase in foreign exchange reserves and relative reduction of debt ratio.

In his address, Mr. Thanasis Lavidas, President of the Federation Committee for International Affairs, marked out that sub-Saharan Africa is an emerging power, with specificities and diversity markets that offer significant business opportunities due to the needs for infrastructure modernisation, technological development and upgrading living standards. These countries, with a total population of 385 million inhabitants, show positive growth rates (N. Africa 3%, Nigeria 6.2%, 7.1% in Zambia, Botswana 6%, Kenya 5.5%, Ethiopia 10.4%). He noted that Greek companies are called upon to engage in an exporter and investment 'safari' and, despite the difficulties, to claim role in progress and development transferring know-how, activating young people by introducing modern production processes and by providing new and competitive products of high European quality. One should focus on energy production and management, in construction projects both large and medium scale, environment and water resources, the development of information technology and telecommunications, in agricultural production, pharmaceuticals and health services and many more opportunities in other sectors.

A similar event will be held on Thursday, March 12, 2015, in Thessaloniki, in collaboration with local agencies TCCI (Thessaloniki Chamber of Commerce and Industry), F.I.N.G. (Federation of Industries of Northern Greece) and SEVE (Greek International Business Association).
Read here Mr's Maniatakis speech.