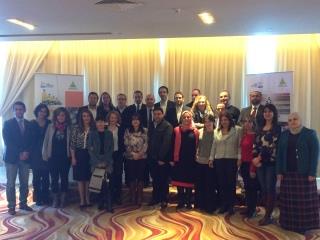 More than 21 organizations from different counties such as Spain, Greece, Morocco, Algeria, Tunisia, Lebanon, Jordan and Egypt, participated in the training course on "MedDiet Info Point Training" in order to increase the awareness of the Mediterranean Diet on March 3-5, 2015 in Alexandria Egypt. The training was organized by ASCAME (Association of Mediterranean Chambers of Commerce and Industry in Spain) and CEEBA (Confederation of Egyptian European Business Associations Egypt), in the framework of the European Project MedDiet from the ENPI CBC Programme. Vicky Inglezou, director of the Maniatakeion Foundation, George Panagopoulos, director of the Kalamata Centre for Environmental Education and Polyxeni Koutla from the Union of Hellenic Chambers attended the training course on behalf of the Messinian Chamber of Commerce and the Routes of the Olive Tree, core partners of the MedDiet Project.
The objective of the training was to create and train a network of info-points in the Mediterranean Basin in order to increase the awareness of consumers, businesses and SMEs (in particular restaurants) about the benefits of the Mediterranean Diet (MD) by involving and reinforcing the capacity of local authorities, schools, Chambers of Commerce/ business organizations, Universities and policy making institutions to implement effective and sustainable initiatives for safeguarding MD in Egypt, Greece, Italy, Lebanon, Spain and Tunisia.
The specific objective of the creation of Info Points is to spread and stimulate the effective use of the Mediterranean Diet Knowledge System and MED DIET Quality Label for Restaurants through the support of officers from Chambers of Commerce, business support organizations and nutritional education centers of the different partner countries of the project trained in this field.
The conclusions of the training course showed the importance to involve the local authorities in order to support the MedDiet Info Points, as the official vehicle of promotion for the Mediterranean Diet in their countries. Moreover, the participants emphasized the need of a continuation of the project, in order to implement this initiative as a key issue for all the countries of the Mediterranean Basin and Europe.