The Hellenic-African Chamber of Commerce and Development, honoring the memory of the top African leader Nelson Mandela, organized an event on Wednesday, March 19, 2014 in the auditorium of the National Research Foundation with main speaker our compatriot George Bizos, Mandela's close friend and lawyer.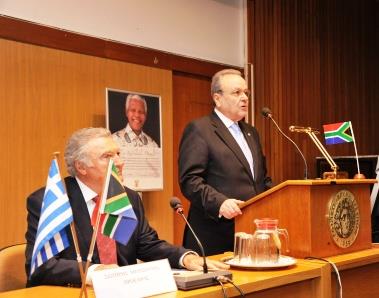 The event started with an address by Mr. Dimitris Maniatakis, General Secretary of the Hellenic African Chamber who stated inter alia that "George Bizos is the Greek who fought alongside Mandela for the cause of freedom, democracy and equality. He is the Greek who linked his life with the fate of the African people, the lawyer who fought and defeated apartheid. "
Then Mr Sotiris Mousouris, President of the Chamber, former Director of the UN Centre against Apartheid (1987-1992) took the floor and referred to the personality of Nelson Mandela. "He was the man who overcame the stigma of racism setting as paramount target a united and democratic South Africa". As for George Bizos, he stressed upon the fact that "He is the man who saved the honor of Greeks in South Africa and carried over the original voice of Mandela during his years in prison. "
Then Mr Charalampos Athanasiou, Minister of Justice, Transparency and Human Rights spoke, emphasizing the power of Nelson Mandela who never gave up despite the hardships of life.
Mr. S. R. Makgetla, Ambassador of South Africa, stated in his address that we owe a lot to leaders like Mandela and defenders of the law like Bizos and that South Africa has accomplished much in the last twenty years thanks to the struggle of those two persons.
Mr. George Bizos spoke of the apartheid era, focusing on the struggle for a free South Africa. He also referred to the actual Greek reality by saying "We have passed worst temporary setbacks. When people ask me what will happen to Greece, I answer that Greece will remain Greek".
Ambassadors of African countries, diplomats, politicians, academics, businessmen, friends of the Republic of South Africa as well as fellow countrymen of the honored speaker from Koroni and Vasilitsi were present at this event.