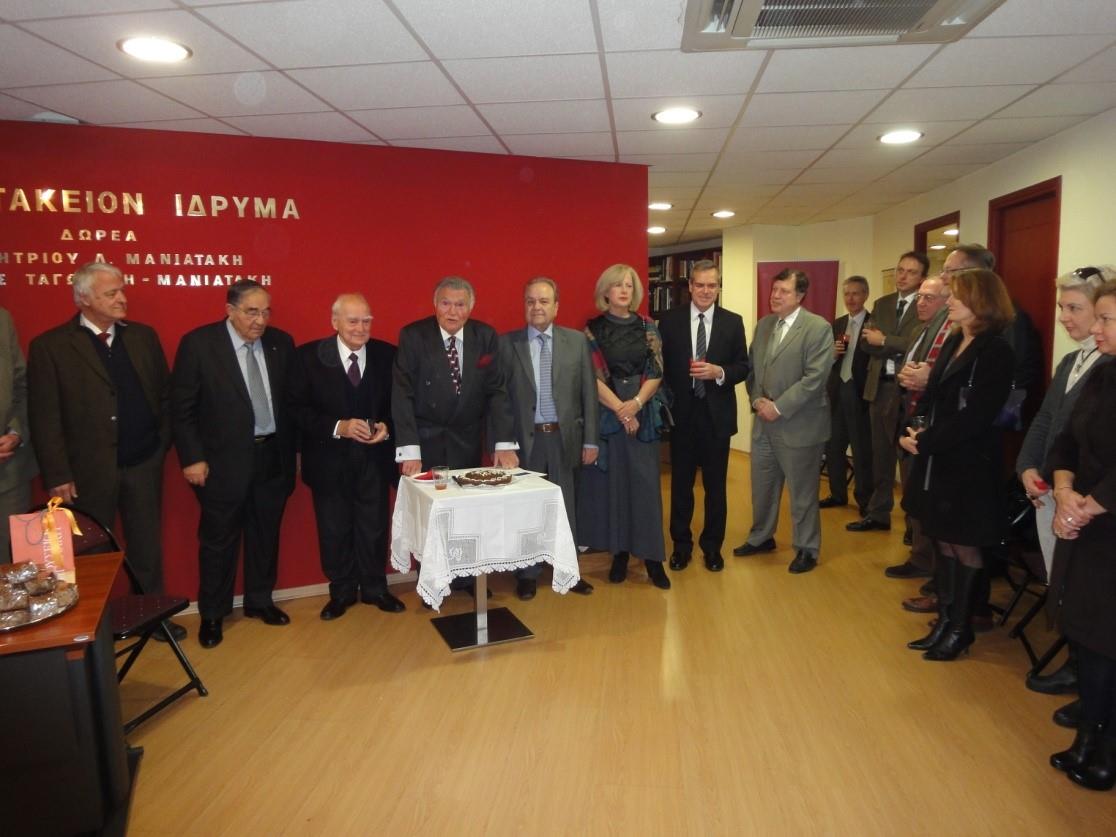 On Wednesday, January 27, 2016 the Hellenic-African Chamber of Commerce & Development celebrated its New Year's pitta cutting at the offices of the Chamber housed in the Maniatakeion Foundation. The event was attended by members of the Chamber and the Board, Honorary Consuls, the counselor of the Embassy N. Africa Mr. DuPlessis, the Head of the Commercial Department of the Embassy Mr. Anthony Mavridis, representatives of the Ministry of Development and Tourism, as well as diplomats and businessmen.
Mr. Sotiris Moussouris, President of the Chamber after welcoming the guests, stressed the importance of the role of the Chamber in developing relations between Greece and African countries. He noted that the African Continent offers many business opportunities in countries such as Ethiopia, a fast growing and politically stable country, Kenya, Zambia, Botswana, Nigeria and South Africa. He furthermore referred to the activities of the Chamber during the year 2015 and briefed the attendees on the new version of the Chamber "Africa at a Glance" a program in the Chamber's website, which provides useful information on macroeconomic and microeconomic data for those interested in exploring business opportunities in Africa.
The Secretary General Mr. Dimitris Maniatakis briefly referred to the activities and work achieved by the Chamber. He pointed out that the enormous needs created for the modernization of infrastructure and the ever rising living standards, the obvious improvement in business conditions, the reduction of political risk, the favorable demographic data and the "saturation" of developed economies are some of the factors expected to increase the investor's interest in sub-Saharan Africa and provide significant opportunities for corporate profits in relatively "virgin" in terms of business operating environment.
Vice-President John Payidas wished the Chamber a creative year and added that the African continent is a continent offering business opportunities. He recounted his personal business experience in African countries such as Burundi and Rwanda where he had been living for several years. Next Vice-President Euclidis Ioannidis (VIOHALCO SA), related his own experience as an entrepreneur in Africa and encouraged the attending members to invest in the African continent. Of course there are difficulties which can be overcomed after a good market research.
Finally, Mr. Sotiris Moussouris cut the pitta (cake) wishing all a good and productive year. Mr. Anthony Mavridis, Head of the Commercial Department of the South African Embassy won the coin. All participants wished him a lucky New Year.