On Wednesday, December 11, 2013 the annual periodic edition "Messiniako Imerologio" (Messinian Journal), issued by the Messinian writer Christos Reppas, was released for the seventh consecutive year and launched at Kalamata in Rex hotel at "Messana" hall and in Athens on Monday, December 16, 2013 in the Cultural Centre of Athens, in "Anthony Tritsis'" auditorium.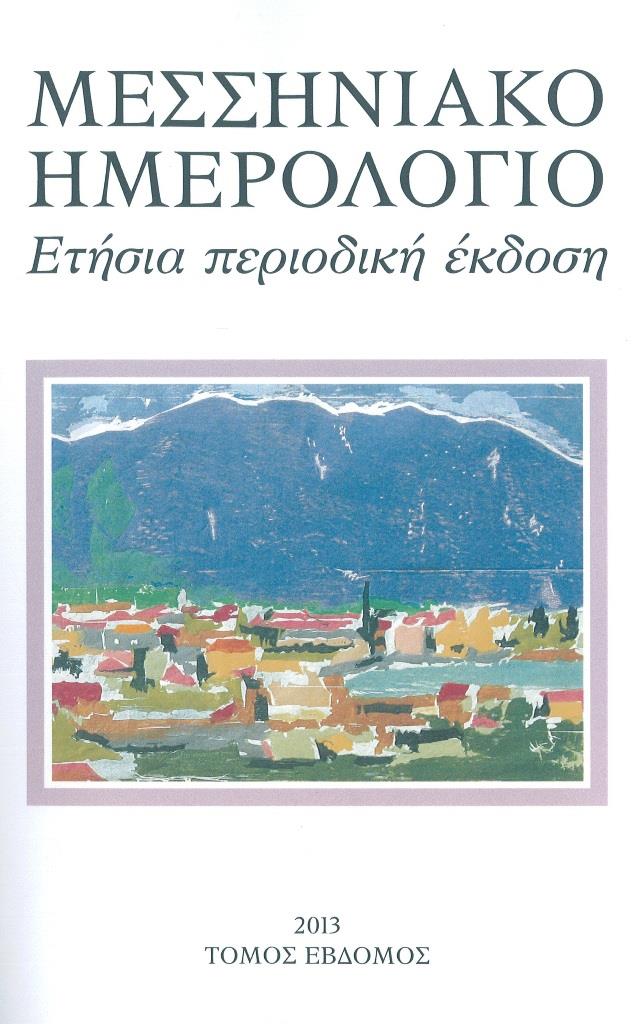 The "Messinian Imerologio " was first published in 1880 by John Paraskevopoulos, then in 1907 by Vassilis Tzaravelas, in 1950-1951 by Dionysios Vogopoulos and since 2007, 133 years after the publication of the first volume, by the fully dedicated and devoted Christos Reppas.
The 477 page year's edition comprises 36 written works out of which one can mark out:
· The work of John Plemmenos entitled: "Pre-revolutionary and revolutionary Messinia projected in the works of philhellenes' artists of the 19th century." In this paper he stresses on the fact that artistic exploitation of the modern history of Messenia by philhellenes' artists is not particularly known to the general public. "However, a closer investigation reveals that a) on one hand, other regions of Messinia, Koroni for example, are used as a scenic venue for important works of European artists, b) On the other hand, the Battle of Navarino inspires European artists, such as composers, playwrights, choreographers from various artistic points of view" .
· Christos Reppas' text entitled: "The first edition of Yannis Kambysis' novel Paulina Paulina". When Paulina Paulina was first published in 1895 in the biweekly newspaper KALAMATIANI, Yannis Kambysis was barely 23 years old. The director of the newspaper was John P. Paraskevopoulos, a scholar and a pioneer for his time in the era of combative journalism . In his introductory note he assessed the work of Yannis Kambysis evaluating the writer as a "promising collaborator."
· Eleni Tagonidi Maniataki's text entitled "Panagiotis Yiallelis, a versatile popular artist of Koroni" . She describes Panagiotis Giallelis as a talented and ingenuous artistic figure who, with his passion and hard work became the popular painter of Koroni and the surrounding area. With practically no academic education yet through his boundless talent, he managed to capture with unrivaled authenticity, the rural life of our region. His relation with religion was close and vivid. His turning to hagiography was in a way due to the fact that at that time there were no holy paintings with which to decorate churches. It should be stressed that he was indeed a gifted craftsman and could handle almost anything. He did wooden carvings besides being a sculpture. Α "self-taught carpenter, painter and self-taught musician... a rare talent". For decades Panagiotis Giallelis thanks to his honesty, kindness, liveliness and remarkable talents, was present in all aspects of the social life of Koroni and the surrounding villages. He was indeed part of the customs and rituals of the region, its society and its local culture.