The Gastronomic Culture & Tourism Congress on "Legendary Peloponnese - flavours with History" was successfully carried out on the 22, 23,and 24 of May in the auditorium of the Benaki Museum in the context of "Days Gastronomy" with the Peloponnese region as credited destination.
The focal target of the event was highlighting the interdisciplinary culinary landscape of the Peloponnesian region, focusing both on the long culinary tradition of the region as well as the dynamic of contemporary creative cuisine from a broad program of events which included tastings, producers exhibitions, thematic events for the communities of taste, visual exhibitions, initiatives and innovative business ideas, debates, speeches etc.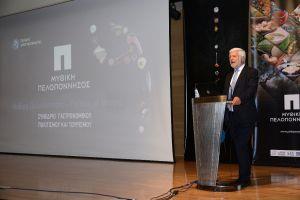 The conference began with greetings of the official guests and a speech by Mr. Petros Tatoulis, Prefect of Peloponnese. He referred to Peloponnese as being a "Blessed Region" which on one hand is distinguished for its excellent quality of products and its unrivalled natural beauty and on the other hand, for its people who rely on their own forces and believe in ceaseless effort. He also mentioned the support and activities of the Maniatakeion Foundation in preserving and promoting the Mediterranean diet as a component of intangible cultural heritage in the region.

Mr. Dimitris Maniatakis, President of the Maniatakeion Foundation, accurately outlined in his speech the whole integration of the Mediterranean Diet in the List of the Intangible Cultural Heritage of Humanity.He spoke about the nutritional value of the food model, the beneficial properties for the health and well being and the cultural elements embodied in the traditional methods and practices, which are transferred from one generation to the next and stressed the extraverted social dimension of Greek table. He presented the history and tradition of all Messinian products from ancient times until today. He stressed upon the fact that gastronomy is a 'locomotive' development through which local products pass and through which the food culture and gastronomy of the region are displayed.
The "Marriage" between quality local products and tourist product will offer perspectives for the development of actions which will enhance the existing tourist product, will result in lengthening the tourist season and will create demand for the products and services offered in the blessed Messinian land. He concluded his speech by quoting the words of Epicurus. "The beginning and the root of all goods lies in the pleasures of the stomach ".

Professor Antonia Trichopoulou, Board Member of Maniatakeion Foundation, spoke about traditional diet and the importance of "Yesterday" as a model for "Tomorrow." She stated that traditional products are important because they are local, thus viable and are produced in an environment that respects biodiversity and seasonality and are thus cultural elements and gastronomic culture.
The conference included, inter alia, representatives of the municipal authorities of the Peloponnese region, Mr. Achilles Constantakopoulos, President of ΤΕΜΕS S.A., prominent chefs, Mr Lefteris Lazarou, Mr. Miltiadis Karoubas, President of the Chefs' Club of Greece etc.