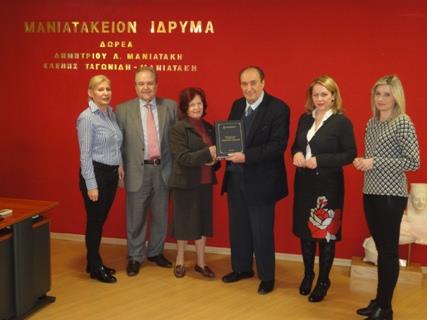 On Tuesday February 9, Professor Alcibiades I. Kostakis visited the Maniatakeion Foundation in Athens. The purpose of his visit was to donate to Dimitris and Eleni Maniataki, Chairman and Vice Chairwoman of the Foundation, the volume issued in his honor by the National & Kapodistrian University of Athens.
The volume includes scientific studies and works of teachers, colleagues, associates, scientists, students and patients of the professor. An excellent work that introduces the reader to the world of medical science.
On January 20, 2015 the book was presented to the Emeritus Professor of the University, Faculty of Medicine, Department of Health, during a ceremony held at the National & Kapodistrian University of Athens.
Besides his enormous contribution to medicine, Prof. AlcIbiades Kostakis was President and Board member of many important organizations such as Onassis Cardiac Surgery Center, Laiko Hospital, DOATAP etc.), has written many books and is internationally recognized as an authority on kidney transplants.
We sincerely hope that Prof. Alcibiades I. Kostakis will serve as an example to young scientists not only for his high scientific tutoring and devotion to his work but also for his moral and ethical life.